Ecofeminism in India : Struggles and Perspectives
March 2023
Résumé :


Edited by Madhura Joshi
In India as well as in the Global South, activists and the rank and file of ecological, social, political, decolonial, feminist movements have changed the relations between humans and nature as well as economic, social and gender relations. The contributions in this volume were initially presented as papers during the annual conference organised by the Société d'Activités et de Recherches sur les mondes Indiens on the theme Ecofeminism in India : History, Struggles, and Perspectives on the 28th and 29th 2021. The articles are anchored in sociological and anthropological fieldwork, literature, and poetry. They contribute through their different perspectives towards environmental history, past and present conceptions of nature and women, while revealing some of the pioneers in the struggle for the preservation of natural resources and famous events connected with ecofeminism.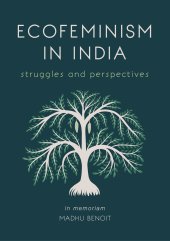 The cover design is an adapted version of the Tree of Life. This tree is often a central element depicted in Warli paintings, a ritualistic art of the Warli tribe of northern Maharashtra in India. Given the destruction of forest cover that is being witnessed in the 21st century, and for this volume on Ecofeminism in India, it seemed an appropriate reminder of the soothing presence of trees, which are the very important life providers and sustainers of ecosystems across the world. It also hails the Chipko Movement, one of the emblematic moments of women's resistance against the felling of trees. On behalf of the SARI, I thank Jamie Alexander, who designed this front cover.
This volume is dedicated to the memory of our much loved and admired colleague, Madhu Benoit.
Contributeurs :


Introduction
Madhura Joshi
Women's Movements and Environmental Activism in India : Theoretical Reflections based on the study of New Delhi
Caroline Michon
Rethinking the Ecofeminist Discourse : View from the Western Ghats, India
Manisha Rao
Eco-humanism in Kiran Desai's Hullabaloo in the Guava Orchard (1998)
Lydie Le Moine
Critical Ecofeminism in Amitav Ghosh's Fiction : From The Hungry Tide to Gun Island
Maria-Sabina Draga Alexandru
An Ecofeminist Foremother ? Rokeya Sakhawat Hossain's oneiric representation of nature, technology and gender roles in "Sultana's Dream"
Leslie de Bont
Many Faces of Madness : Mindless Destruction with Snapshots of Preservation
Madhumeeta Sinha